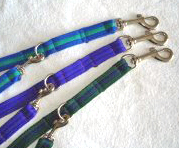 Made with 'Softex' material
Padded woven material which is strong but gentle on the hands. Mekuti Double-Ended Leads are comfortable to hold even in cold and wet weather. This lead is also popular with users who have sore or arthritic hands. Please refer to our further notes about this product.
Two different size Trigger Hooks
A smaller one to attach to the side of the harness (or even a head halter) and a larger one to attach to the back of the harness (or collar). The lead width is ¾" and available in 2.5, 2 and 3 metre lengths.
For heavier set and stronger dogs
We recommend considering using a lead with two large trigger hooks. These leads are available in ¾" or 1" widths and in lengths of either 2 or 3 metres. (Click here)
The lead can also be used as a normal lead
You can attach it to a collar or the back of the harness and adjust the length or make a comfortable handle by clipping the other end to one of the rings on the lead allowing you a greater degree of control or more freedom for your dog.
Note: SAVE £2.00 OFF the combined price when buying a Harness & Lead Set

"My favourite product is the double-ended lead. The fact that it is wider and kind of padded has been invaluable to me as a person with arthritis in my hands.
Thanks, Rachael, for all the good I've gotten out of your leash. Before I had it I hurt four of my fingers in a long-term way, two of which are permanently swollen. So you can imagine how I only use your leash and no other."
S. Robinson, U.S.
"My lead is fabulous, I work at a rescue centre so its very good for dogs who need a halti or harness or just basic lead training. It is already much used, so thank you for a brilliant product!"
Lisa
Softex®colours available for Double-Ended Leads and matching Collars

Black
Purple
Royal Blue
Red
Emerald
Cedar & Navy
Red & Navy
Royal & Emerald

Please note that colours shown are only approximate.
Please also note: This is not a lead with two ends and one handle. It is a lead with a trigger hook on each end, and is not designed to walk two dogs with one lead.
Please also also note that the lead is made from a woven material and is not bite resistant.
Special care must be taken to young or nervous dogs and your dog. The lead must not be used to tether your dog.
Please also also also note that the dimensions given in our descriptions of the double-ended leads refer to the width of the lead material, and not the trigger hooks.
Matching Collars are available
New Product
3 metre long,
1" wide
Double-Ended Leads
(available in ALL colours)