Prices include VAT

VAT Reg. No.
942 6229 20
Page Updated:
28-12-2020

©2004 – 2021 Mekuti and Rachael Greenland
HOTTERDOG JUMPERS (from Equafleece)
"Fleece Dog Jumpers for discerning dogs who like to be Warm and Dry"
Any breed of dog can feel comfortable, warm and dry all year round with an Equafleece HotterDog Jumper.
Here are three great reasons why your dog will love a new HotterDog Jumper:
to keep drier and cleaner during exercise
to keep warm overnight or when it's a bit chilly outside
to help stay calm at home or in potentially anxious times outside when meeting other dogs or people.
Your dog will be calm, keep warm and still look cool! Available in Black, Red, Blue and Green
+++ PLUS 10% Discount off ALL colours and ALL sizes!
Discount continues while stocks last!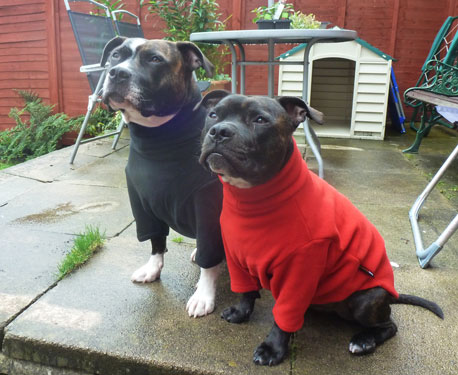 Two staffies ready and set to go off on their British Summer Holiday!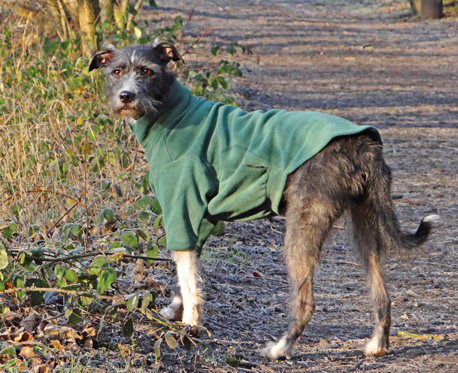 Mutley in his smart new jumper.
Lurchers always need a bit more protection for the undercarriage
[Mutley says: please nte the current colour Green is a lot darker than shown in this picture]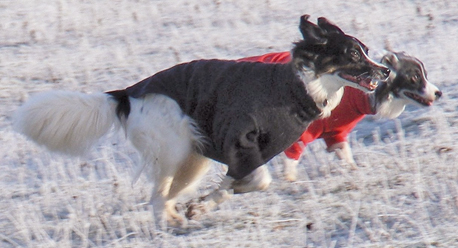 Heidi and Meg enjoying a glorious run in a frosty field.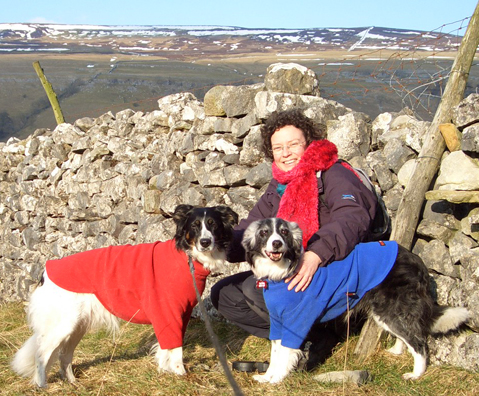 Available in Red, Black, Green and Royal Blue
(Please note that colours shown are only approximate and show up differently on different displays and devices.)
The EquaLX creates a layer of warm air around the wearer and the fleece acts as a barrier against rain, actively repelling water while allowing the escape of excess heat to maintain a comfortable body temperature ( I've not experienced Meg overheating in hers).
Who would benefit from a Jumper?
Relaxing, calming and easy to maintain
The HotterDog Jumper comes with Meg's personal recommendation – she's been warm, dry and so relaxed as it also appears to have the same calming effect as theEquafleece t-shirt and the TTouch Body Wrap.
Conveniently, her jumper also washes up an absolute treat, drying in no time at all, and she looks pretty smart too!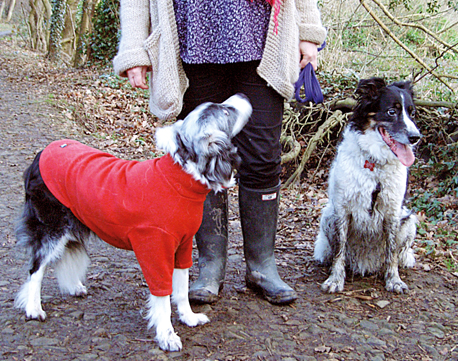 TOP TIP: Put the jumper on the one that gets mucky in the first place, the jumper is easier to clean!!!
HOTTERDog Fleece Jumpers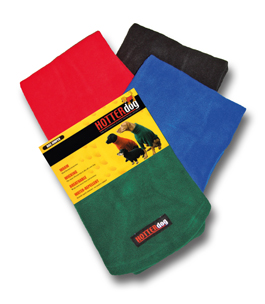 Drying off your dog in record time!
Our dog, Meg, is blessed with a coat that doesn't hold gallons of water (or mud – it just seems like it when she leaves a trail all over the sofas!) but it still holds the damp, even after a rub-down with a towel. She is also prone to being cold.
The problem came to a head over the New Year when she got drenched and had to wait in the van while we were visiting parents. She got SO cold that it took her a few days to recover. I vowed to find something that would:
Keep the worst of the rain off
Keep her warm
Be wearable indoors and out
Not make her look fancy!
Fit properly – (how many coats slip?)
Be strap free
Have good body coverage without interference of bodily functions!
Be comfortable
I've found it! The Hotter Dog Jumper. Made from premium grade, medium weight EquaLX fleece, it's claimed to maintain its velvety texture without pilling.
Read what some of our customers have said...
"The jumper is great, my staffie who is scared of fireworks heard some on the TV twice today, normally he would be scared for the rest of the day listening and waiting for more, but as he was wearing his jumper at the time he was absolutely fine and did not seem to be bothered at all by the noise he once hated."
F. Cox
"With the snow outside I put their jumpers on and they loved them, they are such nice quality and cosy. The dogs are sleeping beside the roaring fire with their jumpers on, very snug and very happy, thanks for such a great product for two oldies! From a greatful Labrador and Westie, and human companion."
Mrs S. Bishop
"Many thanks received the next day - fantastic service - can't wait for it to rain so she can wear her jumper "
Patricia

"I just had to let you know that I am delighted with the HOTTERDOG SWEATER that I received this morning, it fits my dog perfectly. Thank you for such prompt delivery, I ordered it very late on Sunday evening and received it first thing this morning(Tuesday)."
Sylvia Clifton

Stock News
(Updated 28 December 2020)
We endeavour to keep this information up to date but thie numbers on the stock listing is NOT 'automatically' updated.
Please suggest your 2nd choice colour when you order, just in case.
| Size | Black | Red | Blue | Green |
| --- | --- | --- | --- | --- |
| XS | In stock | only 1 left | Sadly, unavailable | Sadly, unavailable |
| Small | In stock | Out of Stock | Out of Stock | In stock |
| Medium | Out of Stock | Out of Stock | Out of Stock | Out of Stock |
| Large | Out of Stock | Out of Stock | Out of Stock | Out of Stock |
| XL | Out of Stock | Out of Stock | Out of Stock | Out of Stock |
Please note the stock information shown in this table does not include unprocessed orders.


Please choose the correct size for your dog
Particularly note Chest Size (B) and Neck Size (C) as the jumper must be able to fit comfortably over the head and not be too tight around the chest, so pick the LARGEST size that will fit.
If in doubt choose BIGGER!
Please Note: It is important to measure your dog before placing your order.
Important: Returns for incorrect sizing or refund must be folded neatly in its original packaging and completely free from dog hair or may be subject to a £3.00 re-stocking fee per item.

Collar to Tail (A)

Chest (B)

Neck (C)

How to measure your dog:




28 – 34cm




35 – 44cm




45 – 55cm




56 – 66cm




66 – 76cm
These are new sizing details updated in Spring 2012, if you are re-ordering to add to a previous order you must remeasure your dog to make sure you are choosing the correct size.