Please note, all prices shown include VAT
From 1st January 2021, Value Added Tax is only applied to sales in the UK
The VAT amount will be deducted if the goods sent out of the UK and will be clearly shown in the Shopping Cart.
The Mekuti Balance Harness Set – further details
To find the correct size for your dog, measure around the rib cage
The Harnesses and Leads are made from different material so they 'co-ordinate' in colour rather than exactly 'Match'.
Please also note that, for production reasons, the side clips may not always be the coordinating colour of the harness and may be black. If you have any questions about exactly what you will receive, please contact us and we will describe what exactly is currently available. For instance, the purple harnesses may not always be available with purple clips (as shown in some of the pictures).
Harness material colour
Co-ordinating Lead Colour
Black
Black
Red
Red OR with
Red-Navy option
Purple
Purple
Cedar
Cedar-Navy
Royal Blue
Royal Blue OR with new
Royal-Emerald option
Navy Gypsy
Red-Navy OR new
Navy Blue option
Green Gypsy
Royal-Emerald
or Emerald
Please note that colours shown are only an indication.
New Products
NAVY BLUE Softex Leads
(Goes really well with the Navy Gypsy harness)
ROYAL/EMERALD Softex Leads
(Goes really well with the
Royal Blue and Green Gypsy harnesses)
Matching Collars are also available
Choosing the correct size harness for your dog
The Dog Harness comes in five sizes (all are adjustable within the size range).
The Mekuti Balance Harness is FulLY ADJUStable within the size range you choose for your dog. It can be adjusted on the Neck Straps, the Chest Strap and the Barrel Straps around the ribs to make the perfect fit for any breed, type, size or shape of dog.
Generally, pick the harness with the measurement closest to the middle of the size range but you may have to make allowances if your dog is still growing as a puppy, thick set or slight in build.
This is especially the case when choosing between the Medium or Large sizes if your dog's rib measurement is 28 inches, for instance, which would fit both. Note also that in the large size 1" webbing and Softex materials is used for the harness and lead, as opposed to the 3/4" in the medium harness and lead.
Measure in all the way around the ribs behind the front legs.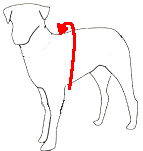 Please note the following webbing widths apply for all harnesses
Mini – 1/2" webbing
Small and Medium – 3/4" webbing
Large and Extra Large – 1" webbing
The Mekuti Balance Harness has more than one beneficial use:
Stop pulling on the lead
Assistance with helping your dog's even muscle development, particularly if hip displasia is an issue.
Anxious behaviour when being exercised
Improved control, allowing both you and your dog the opportunity to enjoy your time together, with no shouting!
Nervous dogs - the harness is designed to be put on without having to lift the legs, or manhandle them in anyway, so it's very useful for rescue dogs.
Dog or people-aggressive dogs can be led safely between 2 people, being attached to both by a lead to add to their confidence and help them to cope in these situations.
Caring for your Harness
Why do dogs pull?
Soft tissue damage to the throat or windpipe
Vertebral damage to the neck and shoulders
Check chains can also remove the dogs coat from around the neck and cause pinch injuries leading to hypersensitivity in the neck area.
Badly used head halters can result in whip-lash type injuries ( which is why it is recommended that they are only used with a double-ended lead to also attach to the collar as a preventative measure).
Any dog leaning into their collar will have a reduced oxygen supply to their brains, thus making it difficult for them to think clearly, or even rationally. A dog that pulls on the lead is more likely to react badly when they see other dogs or people.
The patent pending Mekuti Balance Dog Harness is made from webbing, with multiple attachment points to give you options on where the points of contact are to be. It comes in 5 sizes, each being fully adjustable behind and in front of the legs, and underneath the chest. This ensures a close, comfortable fit that doesn't pinch or rub. The seams are external on the chest for more sensitive dogs.
If your dog is head shy or has large or sensitive ears or after surgery on the head, a Balance Harness is available (for an additional £2.50) with an extra clip to one side of the neck. This enables you to place the harness onto your dog without worrying them. (Only available in black and sizes ; small, medium & large) Click here
How the Balance Harness system works
The Mekuti Balance Dog Harness TM enables the handler to use two points of contact with the dog. When a dog pulls, you become part of their balancing technique. By using two connection points, you can withdraw one of the balance points before taking up the other. It is very simple. The end result is a dog that is unsure what he can lean into and therefore re-learns how to balance on his own four feet without relying on you - hence "Balance Harness". Once the dog has learnt this, you give fewer and fewer signals until he is walking alongside you without your input.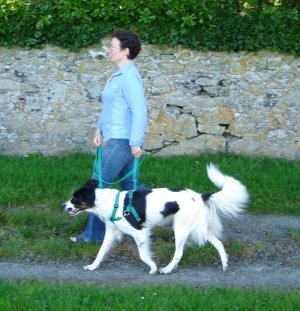 View more pictures of the Harness
A dog walking on a loose lead :
May think more clearly
Responds rather than reacts
Reduces the chance of injury
Is a pleasure for its handler.